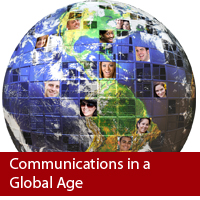 A group of Communications faculty have created an archive of teaching materials that integrate diversity into the Communications curriculum. Building on the School of Communications' Diversity Plan and with support from the Diversity Infusion Project, this resource supports Communications students learning their discipline in the context of our complex global society.
Professors Lee Bush, Mandy Gallagher, Nagatha Tonkins, and Qian Xu spent the Fall 2011 semester building a catalog of materials across a multitude of media representing various theories, histories and perspectives. During the Spring 2012 semester they developed modules to teach with these materials in ten sections of the course Communications in a Global Age (COM 100). Faculty used a wiki to contribute teaching ideas for these materials, and to add even more materials and teaching suggestions to the archive. More details about the goals, implementation, and assessment of this project are available online.
The Diversity Infusion Project began in 2011 to support the development and implementation of strategies to infuse Elon's curriculum with the best practices related to diversity, broadly defined. The Multicultural Center and the Center for the Advancement of Teaching and Learning co-sponsor the Diversity Infusion Project.  More information regarding the Diversity Infusion Project, current and past projects, and application information are available on the Teaching and Learning website.