To me, one of the most fascinating things about humanity is the way we share ideas and culture.  The relationships, power struggles and peace treaties that our cultures go through shape the present and future in ways we will likely never understand.  The video featuring Dan Dennett was eye opening for me.  I loved the way he described memetics, especially his reliance on the virus metaphor which I thought was particularly fitting considering the subject matter of this course.  He stated that as certain ideas move in they push out the old ones, causing whole tribes and traditions to simply disappear.  He also blamed much of the worlds conflict on this encroachment, stating that some people don't like the new ideas and will fight to protect their "dangerous ideas" (Dennett).
Dennett advocated that we must protect other cultures from western influence lest their traditions be consumed by our own.  I agree with the spirit of his statements, that all cultures are worth preserving, that we must be respectful of others.  These are things everyone can agree on.  My issue is that in todays world an idea can travel much, much faster than a virus.  Within seconds I can communicate with anyone with computer access.  We cannot shelter other cultures from our own.  The good news is, we don't need to.  Sharing traditions, food, music and stories only enriches us.  While a group of friends eat McDonalds in Shanghai, their peers in America are eating Dim Sum.  And while a group of people in America are practicing Yoga, a crowd is watching the newest Michael Bay movie in Mumbai.  Don't get me wrong, too much culture has been lost, and I am a firm advocate of archiving all of the incredible traditions of the world so that we can have them forever, but the issue is that at the end of the day, if a person likes something else better than what they have, they are going to make a change.
And not all cultures need help being preserved.  In fact, I learned in my Middle Eastern politics class that many people in the Middle East are moving towards more conservative Islam in response to recent US foreign policy and cultural advances (Hart).  They even have a knock off brand of Coke called Mecca Cola.  This is all a reaction to not liking American culture and people in the community making an effort to preserve their own.  Furthermore, in an instance of complete serendipity, I recently read a very interesting article about Daniel Everett, a missionary and linguist that traveled to a remote Amazonian tribe looking to decode their language and proselytize their people.  This tribe, the Pirahãs, are completely atheist.  They believe everything has always been as it is now, and do not put much thought into the future or the past.  While trying to convert them, Everett found that he was losing faith in his own god, and eventually became an himself atheist.  I find this most amusing because here you have a man educated in Western culture, sure of his beliefs, and he is completely changed by what these "backward" natives thought.  It also I think it reinforces the notion that Western culture is not infallible and that the exchange of cultures is an organic one and something we should make an effort to leave alone (Gryphen).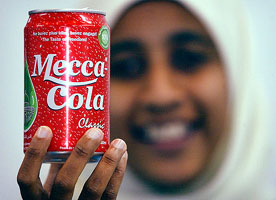 Yet cultures can often clash during humanitarian work.  When you have so many people from different areas of the world in such a raw situation there is bound to be some tension and bitterness between groups.  I thought Donini's chapter in In the Eyes of Others was very interesting because it is another instance of the aid system trying to correct itself.  His findings seem to suggest that a major issue is this top down approach that aid workers take.  He states that workers are often perceived as "inflexible, arrogant and culturally insensitive." (Donini187)  With minimal local consultation, many recipients that the aid could be put to much better use if they were included.  I think this exclusion is the result of a lack of respect for the capabilities of recipients.  These workers come over thinking "What can I do for these people" when they should be thinking "What can I do to help these people help themselves?"  By having respect for their own desire to better themselves the aid can be utilized in a much more efficient manner with better long term success.
That respect is very important any time two cultures meet and commingle.  The Elon trip is a perfect example of this.  If the students are respectful of those they meet, i'm sure they will never have a problem.  Yet, as they built that kitchen and garden, I'm sure the locals were looking on, wishing they were the ones learning to level a floor or frame a window.  Yet they are also likely grateful for the new resources they have.  I do worry about the dozens of children you see in their photos.  Its during this time that our values and cultural identity is created and often the effects of western culture become apparent.  Yet while there is a risk that these kids will get exposed to our culture, the Elon students have been exposed to theirs, and I have no doubt it was a life changing experience for them.
Works Cited
Abu-Sada, Caroline, and Antonio Donini. In the Eyes of Others. N.p.: MSF, n.d. Print.
Dennett, Dan. "Dangerous Memes." YouTube. YouTube, n.d. Web. 16 June 2013.
Gryphen. "The Immoral Minority." : That Awkward Moment When the Primitive Tribe You Have Come to Convert to Christianity, Instead Converts You to Atheism. N.p., n.d. Web. 16 June 2013.
Hart, C. "Political Islam's Fight for Control and Failed U.S. Policy in the Middle East." American Thinker. N.p., 30 May 2013. Web. 16 June 2013.
Townsend, Eric. "Students Visit Malawi for Service Opportunities." E-Net! Elon University News & Information. Elon, 13 June 2013. Web. 16 June 2013.