Staff Sergeant Robert Gutierrez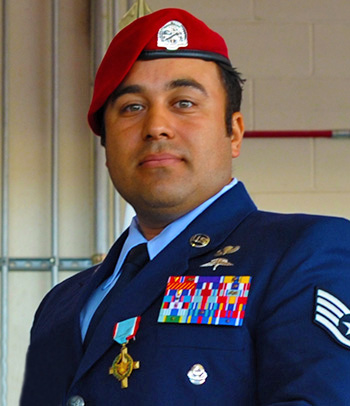 Date: October 5, 2009 
Where: Western Afghanistan
What: A 29 year old Air Force Staff Sergeant named Robert Gutierrez became a hero.
Gutierrez took a bullet to his chest that collapsed his lung while taking out Taliban on rooftop. In these split moments he thought not of his death, but of how he could make a difference and get his men out safely. He was their only direct connection to the airplanes above.  He called for help from above after a medic had stuck a seven-inch needle in his chest while he was fully conscious. The flybys failed to help them escape fire and Gutierrez decided to withdraw. He walked a mile while losing five pints of his blood in order to get to the military vehicles. Once there, he radioed for an emergency evacuation, suffered another collapsed lung, and passed out. It took him over a year to recover and he is eager to get back to the fight in Afghanistan.
http://www.foxnews.com/opinion/2011/09/19/air-force-hero-in-action-staff-sergeant-robert-gutierrez/
Gutierrez is a true American hero. He was wounded the worst on that day and yet he was the only one capable of evacuating his team through radio communications. His bravery and determination to do whatever it took to save the lives of his men was truly a selfless act. He could have died within the three minutes after he was initially shot, but his focus kept him alive for the seven hours of fighting.