F is for Freedom
F is for Freedom because the movie V for Vendetta is all about people breaking free from the government oppression even though not everyone realizes how corrupt and manipulative the government has gotten. The main character V is on a quest to get people to recognize that the government is dictating their lives. For instance, the government has a strict curfew and there are harsh punishments for people who violate this curfew.
"If I am sure of anything, Inspector, it is that this government will not survive if it is to be subject to your feelings!"
– Chancellor Suttler (V for Vendetta)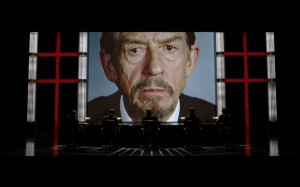 Chancellor Suttler is the tyrant leader of this dictatorship. The quote above happens when the Inspector Finch is attempting to discover more about Larkhill through Dr. Delia Surridge's diary. This quote highlights the government's awareness to what they are doing and their knowledge that they cannot allow people to think for themselves or else people will see the flaws of the government. V is the one of the few characters who can see the government's persona and understand what they are doing is violating the rights of the people. The only reason he sees this is because the government had tormented him and he is seeking vengeance. Thus in the movie every time there is celebratory/classical music on the cities speaker system, it is V brining hope and potentially freedom into the city because he is showing people that the government is not bulletproof and they can be stopped if everyone comes together. After these sounds come on the speakers, it usually means that V is blowing up a government building to attract attention. V even creates a firework display from the blow up of the buildings to entertain the people of the city, so there is also a repetition of the crackling and booming of fireworks in the movie. It symbolizes the celebration of the people winning back their freedom.